Sil-Life Silver Ion Solution
Engineering plastic

ISHIZUKA Glass Antimicrobial

Silver Life Silver-based Antiviral

Silver Life Copper-based Antiviral

Silver Life Zinc-based antiviral

High concentration metal aqueous solution

Deodorizing agents, odor-reducing materials

Additives for plastics

Additives for coatings

Additives for fibers

Silver Life sprays, hand creams

Epidemic Prevention Products

Inspection Report
Sil-Life
High-concentration antibacterial/antiviral silver ion solution
Introduction of bacteria
The structure of bacteria, known as prokaryotes, is simple. The cell organelles are without membrane structure such as mitochondria and chloroplasts, but with cell walls. According to the composition of the cell wall, bacteria are divided into Gram Positive and Gram-negative bacteria. The "Gram Bacteria Classification" comes from the Danish bacteriologist Hans Christian Gram, who invented the Gram stain.
Bacteria are both beneficial and harmful to the environment, humans and animals. Some bacteria become pathogens, causing various infections, tetanus, typhoid fever, pneumonia, syphilis, food poisoning, cholera, or even tuberculosis.
Common pathogenic bacteria
Gram-positive bacteria
Gram-negative bacteria
Staphylococcus aureus
Klebsiella pneumoniae
MRSA
E.coli
Listeria monocytogenes
Acinetobacter baumannii
Enterococcus
Salmonella enterica
Clostridium difficile
Pseudomonas aeruginosa
Drug-resistant bacteria (super bacteria)
The so-called "super bacteria" are bacteria with "multiple drug resistance", usually defined as having resistance to three or more antibiotics. Besides, a group of bacteria could exchange genes between each other through a mechanism, so the drug resistance gene could also be passed between bacteria through this mechanism.
According to the latest research from the US Centers for Disease Control and Prevention (CDC), one person dies of "Nightmare bacteria" every 15 minutes in the United States, and the super bacteria have developed antibiotic resistance (Superbug), and there will be 2.8 million people every year. About 35,000 people died of drug-resistant infections due to drug-resistant infections.
Related infection of medical care for monitoring and prevention of major microorganisms
MRSA
Staphylococcus aureus resistant to oxacillin
CRAB
Acinetobacter baumannii, resistant to carbapenem
VRE
Enterococci resistant to vancomycin
CRE
Carbapenem-resistant Enterobacteriaceae, intestinal bacterial infections with NDM-1 (New Delhi, India β-lactamase) gene, with Klebsiella pneumoniae and Escherichia coli
Virus introduction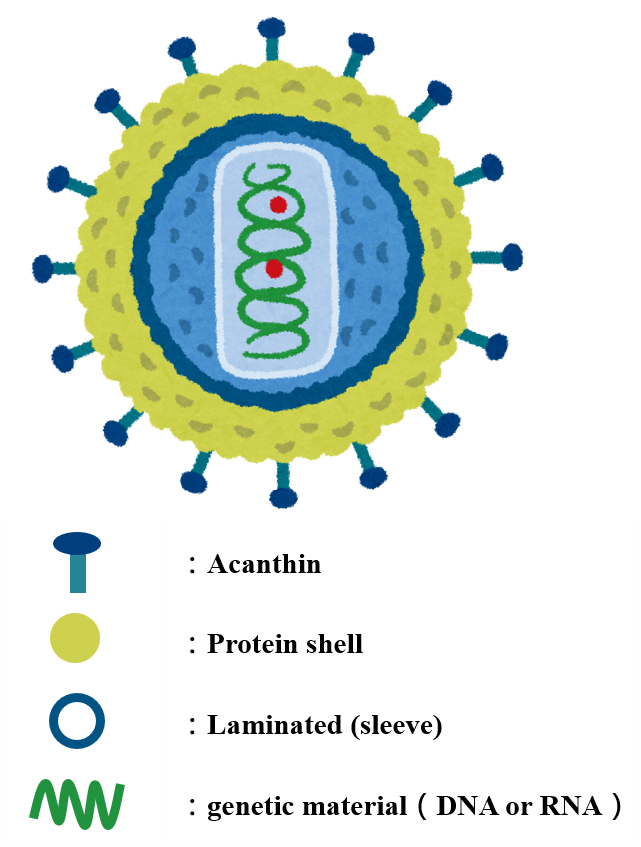 Virus (virus) is a non-cellular form composed of a nucleic acid molecule (DNA or RNA) and protein. It is a quasi-organism that could not express life itself. It is an organic species that lives between parasites and non-lives by parasitic life.
Viruses are composed of two to three components: viruses contain genetic material (RNA or DNA); all viruses also have a capsid formed by protein, which is used to wrap and protect the genetic material in them. In addition, some viruses reached the cells on the surface, it could form a lipid envelope (sleeve) and surround it. The virus particles are about one-thousandth of the size of bacteria, and the diameter of most viruses is 10-300 nanometers (nm).
Laminated virus
Non-laminated virus


(not suitable with alcohol)

COVID-19
Enterovirus
H1N1
Norovirus
AIDS
Rotavirus
Hepatitis B、C
Parvovirus
Novel Coronavirus (COVID-19)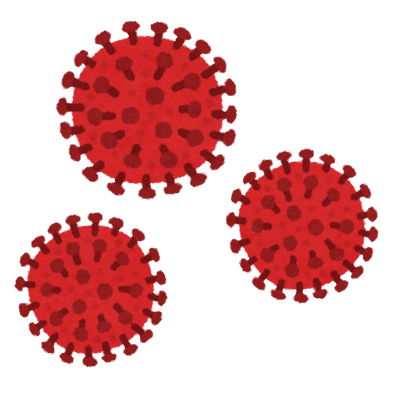 Virus :
Novel coronavirus (COVID-19)
Coronavirus Incubation Period:
within 14 days
Reported date & place:
Wuhan, China Wuhan, China, on 31 December 2019
Animal Host:
probably mammals such as rhizomyidae or bats
contagious period :
unknown
Transmission:
person-to-person or animal-to-person transmission of virus
According to released DNA sequencing, novel coronavirus is nearly 80% similar with SARS virus (SARS-CoV).
To know the precious metal-silver
Silver has been used as a precious metal in human culture for a long time. In addition to currency and investment media, silver is also used for solar cells, water filtration, jewelry, decorations, high-value tableware, and antibacterial agents.
When people did not find organisms such as bacteria, "silver" was used as an antibacterial agent, but it was not until 1972 that scientists understood how silver works. A small amount of silver destroys the bacteria's metabolism by preventing the bacteria from converting nutrients into energy, thereby inhibiting the bacteria's ability to survive, reproduce, and settle.
Modern medicine still relies on silver's broad-effect and long-lasting disinfection and cleaning capabilities. Some products, such as bandages, catheters and other medical devices, will be coated with silver to reduce infection.
After the Second World War, the rise of antibiotics caused a surge in the medical community, but the subsequent drug resistance and side effects found due to the abuse of antibiotics have also become a hidden concern in the medical community, and it has once again paid attention to the antibacterial use of silver.
Because silver has antibacterial effects on various Gram-negative and Gram-positive bacteria, it also contains various types of drug-resistant bacteria. Coupled with subsequent research and application, silver shows its excellent antiviral effect, and silver has little toxicity or irritation to the human body, so more and more products currently use silver as antibacterial or antiviral materials.
Sil-Life silver ion solution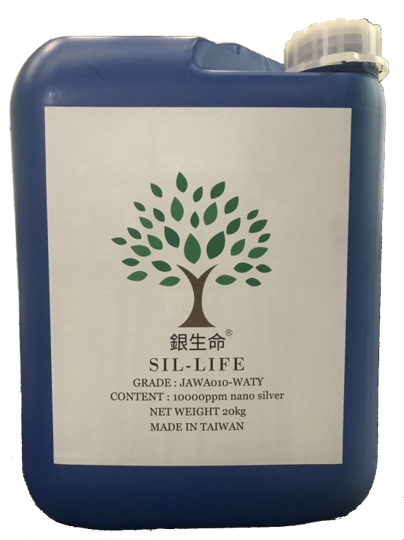 SIL-LIFE reacts directly with viruses or bacterial structures in a physical antibacterial manner. It is safe and antibacterial and could extinguish more than 650 kinds of bacteria, viruses, molds, including SARS (atypical pneumonia virus), influenza virus, enterovirus, etc. without causing biological resistance. Unlike other single-use short-acting antibacterial products, they can continue to destroy pathogenic bacteria.
SIL-LIFE high concentration silver ion solution developed by SIL-LIFE R&D team has a concentration of 10,000 ppm. The solvent is pure water. The Sil-Life has stable properties, and high safety. It only request minimum 30~100ppmto extinguish all kinds of viruses and bacteria.
About Silver:
Silver is a secure metal substance. According to the US EPA Environmental Protection Agency document, a certain amount of silver can be consumed every day. Compared with general disinfectants and alcohol, SIL-LIFE is not irritating.
Silver antibacterial mechanism
SIL-LIFE is with a positive charge while the cell wall of bacteria has a negative charge. Silver would adsorb to the cell wall of bacteria, resulting in uneven positive and negative charges and causing bacteria to break.
SIL-LIFE penetrated into the inside of the cell and destroyed the intracellular structure (mitochondria, vacuole, ribosome) and biological molecules (proteins, lipids and DNA)
Silver antibacterial mechanism
SIL-LIFE silver ion has a strong adsorption and fixation effect on the virus, and could bind to certain proteins on the surface of the virus, affecting the interaction between the virus and the cell receptor, hindering the binding of the virus to the host cell and preventing the virus invading cells
SIL-LIFE could combine with viral nucleic acid to change the structure of viral deoxyribonucleic acid (DNA) or ribonucleic acid (RNA), affecting the replication and reproduction of the virus to inact the virus.
Silver long-term mechanism

After SIL-LIFE silver ion dried on the surface of the object, it would form a non-volatile antibacterial protective film to achieve long-term antibacterial effect.
A test on a Large bank's elevator buttons.
Test Resuls:
After 5 hours of touch antibacterial durability test, ethanol and hypochlorous acid have failed and the bacterial count after 5 hours is already higher than the original bacterial count. After 5 hours of touch antibacterial durability test in using SIL-LIFE, the bacterial count is lower than the original bacterial count. The results show that SIL-LIFE can control the bacterial count for a long time.
In addition to bacteria, the ATP luminometer can also detect the cells left in human hands, so the test data will not be zero when the crowd has been using elevators.
A test on a Government agency's elevator buttons.
Test Resuls:
After 6 hours of touch antibacterial durability test, ethanol has failed and the bacterial count after 6 hours is already higher than the original bacterial count. After 6 hours of touch antibacterial durability test in using SIL-LIFE, the bacterial count is lower than the original bacterial count. The results show that SIL-LIFE can control the bacterial count for a long time. In addition to bacteria,
(the ATP luminometer can also detect the cells left in human hands, so the test data will not be zero when the crowd has been using elevators.)
SIL-LIFE Solution Antibacterial Test Data (SGS):
SIL-LIFE Solution Antibacterial Test Data (SGS):